MERCHANDISING AREA
The Salon du Vegetal is inaugurating its merchandising area !
An event in the midst of to attract and retain tomorrow's consumers.
A space intended to inspire retail and industry professionals.
THE PRINCIPLE
Six merchandisers will have to compete by combining the flowers and plants and supplies proposed by the exhibitors to build a staging.

These stagings must reconcile aesthetic appeal with commercial efficacy, align with brand image and be easy to implement in store.

The best will be awarded prizes by a jury made up of professionals
THE GOAL :
To give concrete examples of cross merchandising to liven up points of sale and to trigger simple or even cross sales.
The Salon du Vegetal will publish "step-by-step" notices, with photos, breaking down the different stages of the building of each staging.
THEME
2019
How to sell to, convince, appeal to, recruit thirty-year olds via a new in-store approach ?
30-40-year olds, a prime target that represents the future.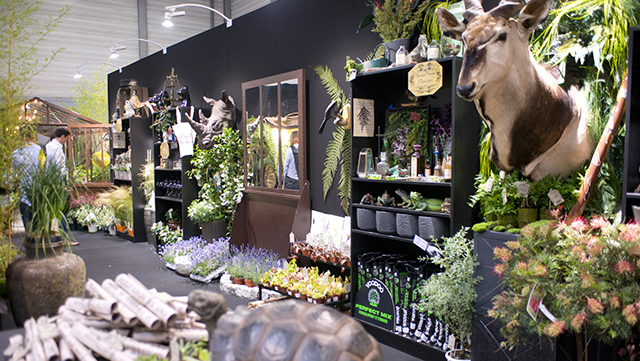 MORE
A conference connected to the merchandising area will be held by Manuel Rucar from CHLOROSPHÈRE
2020 store windows – tips to attract customers to flowers and plants
The store window, entrance and even the car park are the first commercial images perceived by the client. For suppliers and sellers, there are tips to attract attention and appeal to the consumer.
How do you manage your presentation ? How often should you change themes ? Which techniques have the most impact ?
On the occasion of the Salon du Végétal's merchandising competition, our trend-watcher, Manuel Rucar from CHLOROSPHÈRE, will revisit the techniques and rules that can add much more appeal to great presentations – and without forgetting the practical and economical side ! In 30 minutes, you will have the opportunity to discover concrete examples, feedback and simple rules to remember that will support you and your teams all year around in the presentation of products.
The conference will be followed by a commented presentation of the stagings built made by the competition participants : what should be done, what should not be done, expert tips and sharing your opinions.